Good Guys Auto Glass

Our Staff
Jason Larter
is the electronics man at Good
Guys. He has been doing 12 volt installs since
1990 and has considerable expertise with
remote starters and many other auto
electronics. Jason and his wife Melissa live in
Long Creek with their four children aged 15,
11, 8, and 7. He enjoys tinkering with old
ride-ons, motorcycles, etc. A new hobby in golf is also taking up
some of his time.

In Montague
Sam MacPherson and Louis Cann
head up the operations
in the Montague Good Guys location. They have combined
experience of over 30 years in the industry.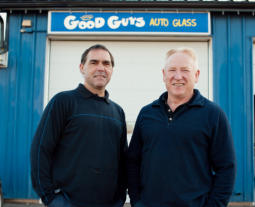 Wayne Vloet
has been a Red Seal
Automotive Service Technician and a
business owner for over 30 years, and
brings a wealth of knowledge and
expertise to Good Guys
Until they build softer rocks, remember the Good Guys
Victor Van Hul
has been with Good Guys
since 2008 and does most of the general
windshield and side glass installations and
repairs. He is a member of a team in the
Slow Pitch League and is involved with many
other sports in the community.
Victor enjoys running, reading and spending
time with his daughters. He volunteers in numerous places. He is
happily married to his wife, Maura.
.
Ben Robb
joined the Good Guys team in
2018. His hobbies are baseball,
motorcycles and spending time with his
two children. Always upbeat, Ben brings
great morale to the business and provides
excellent service.

Rick Singer,
an RCMP veteran, is a new
addition to Good Guys. Rick is an avid golfer,
and enjoys keeping busy in the summer by
cutting lawns. He is a member of 'Men of
the Harvest' gospel choir, which raises funds
for various charities. He is married with two
adult daughters and four granddaughters.

Brooke Brehaut i
s now officially retired,
but remains as an excellent advisor to the
business. Brooke has a wealth of
knowledge about the auto glass industry
and business management.